Good Morning All
Hope you are having a great day. Its supposed to be a beautiful day here in Alberta. And I'm really excited today for 4 reasons!
First
- Its my turn on the
Let's Get Acquainted Blog Hop Summer and Fall 2012
that
Beth from Plum and June
is hosting and doing a great job.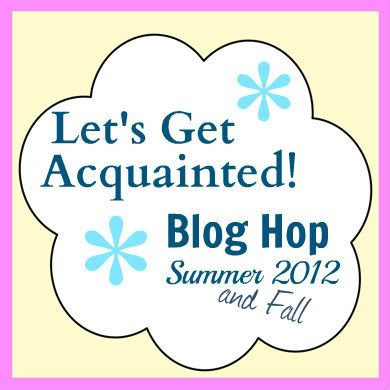 If you're new to my blog - Welcome! I'm glad you could make it.
Here's a little about me:
I learned how to quilt in 2006 with a few work friends. We would meet at my house once a month. One lady taught 3 of us to quilt. It was great fun. We stopped meeting when I was put on bed rest for my pregnancy in 2008. I really missed the camaraderie. I decided to join a Block of the Month Mystery Quilt at my LQS. There I met 2 ladies who talked about the quilt guilds they were a part of. It took me almost a year to join 2 of the guilds in my area. The meetings help to motivated my quilting and give so much inspiration. I also started blogging last year to help with motivation and to keep a journal of my quilting and crafting.
The first theme for the Blog Hop is Novelty and a second theme is added - Colour. I will be focusing on Colour.
Second
- GIVEAWAY
I was lucky enough to meet
Cheryl Arkison
co-author of
Sunday Morning Quilts
at my quilting guild in September. Her trunk show was great. I've seen the book on other blogs and the web but didn't have a chance to check it out. I still can't believe I got to see so many of the quilts from the book IRL. I bought an extra book special for this Blog Hop as a give-away. And its signed!
There will be 2 chances to enter my give-away :
- Follow my blog - just leave a comment stating that you are a follower
- Tell me about your thoughts on the book - First time seeing, Bought the Book, Have a favourite project, Have made a project, etc.
Giveaway will be open until Monday 5:00 pm MST. Good Luck Everyone!
Third
- I'm going to a retreat today. I can't wait to get everything packed up and head out. I will have to cut my weekend short as I have a wedding Saturday night. But I still get Thursday afternoon to Saturday afternoon to get some quilty time.
Fourth
- I may be purchasing a Featherweight today. I've been hemming and hawing about this Featherweight for a while. Well I found out last week that sewing machine service store is closing and moving across Canada. The sewing machine is in great shape, has lots of feet and the manual. On Sunday, while watching
Bonnie
's
QuiltCam
, I asked her opinion about the machine. She gave me some great advice. On my way to the retreat, I'm gonna stop by the store and test out the machine. If it hums and doesn't eat my fabric, it will be coming home with me. My only other worry, it might be sold already. Wish my luck.
I'm also thinking of starting a QAL based on the Sunday Morning Quilts Book that will be starting in October. I will be making "The Missing U." I love the story behind the quilt and I'm a proud Canadian. Would you be interested in joining me? (bonus entry for giveaway)
Please visit these great Blogs that are participating with me this week:
Sep 25
Amanda from
Material Girl Quilts
Amanda from
Fabric Engineer
Sep 27
Vicky from Vicky K Creating
Francine from
Mocha Wild Child
That's my long post for today. I will try to keep up with the comments while on retreat but please forgive me if I don't :).
Have a great week and weekend!
Vicky K